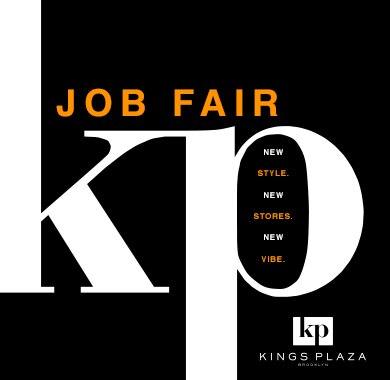 Job Fair 2018!
February 22, 2018 through February 25, 2018
JOB FAIR
SEEKING QUALIFIED APPLICANTS TO FILL NEW AND EXCITING RETAIL AND RETAIL MANAGEMENT POSITIONS
JCPENNEY ZARA PRIMARK BURLINTON +MORE
THURSDAY & FRIDAY FEBRUARY 22 – 23 11AM – 7PM
SATURDAY & SUNDAY FEBRUARY 24 – 25 12PM – 5PM

KINGS PLAZA, UPPER LEVEL, NEAR BEST BUY

Candidates are encouraged to bring a resume.

Located at the intersection of Flatbush Ave. & Ave. U in Brooklyn | 718.253.6844

NEW STYLE. NEW STORES. NEW VIBE.

*The job fair will seek qualified applicants to fill retail positions at Kings Plaza as well as other local businesses.