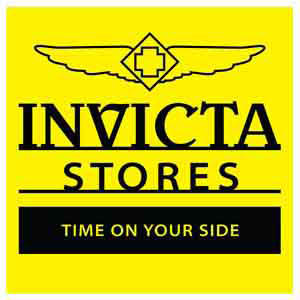 Invicta Watches
Invincible in detail since 1837, Invicta is known for offering supremely crafted timepieces for modest sums to satisfy the evolving fashion needs of its dedicated fans. Invicta watch stores showcase the world's largest selection of Invicta style accessories for men and women. Known for service, Invicta Stores believe in demonstrating the quality, value and care in every timepiece to all who pass through our doors.
Bolt Tria at Invicta
Valid from April 26, 2018 to May 3, 2018
The much anticipated return of the Bolt Tria! So named for its three independent Swiss movements in one cohesive watch piece. Fans of the Reserve Magnum -featuring 2 movements- have never seen anything like the Tria with 3 independent dials, one on each opposing side of the case. Measuring at almost an inch in depth, the Bolt Tria packs power. With sharpness in attitude and ability, the Invicta Bolt is a mastermind of dominance, with an uncompromised statement in accomplished timekeeping where power becomes harmonized motion. Shop the Bolt Tria along with our biggest sale ever: Buy 2 Get 3 Free! See store for details.
---